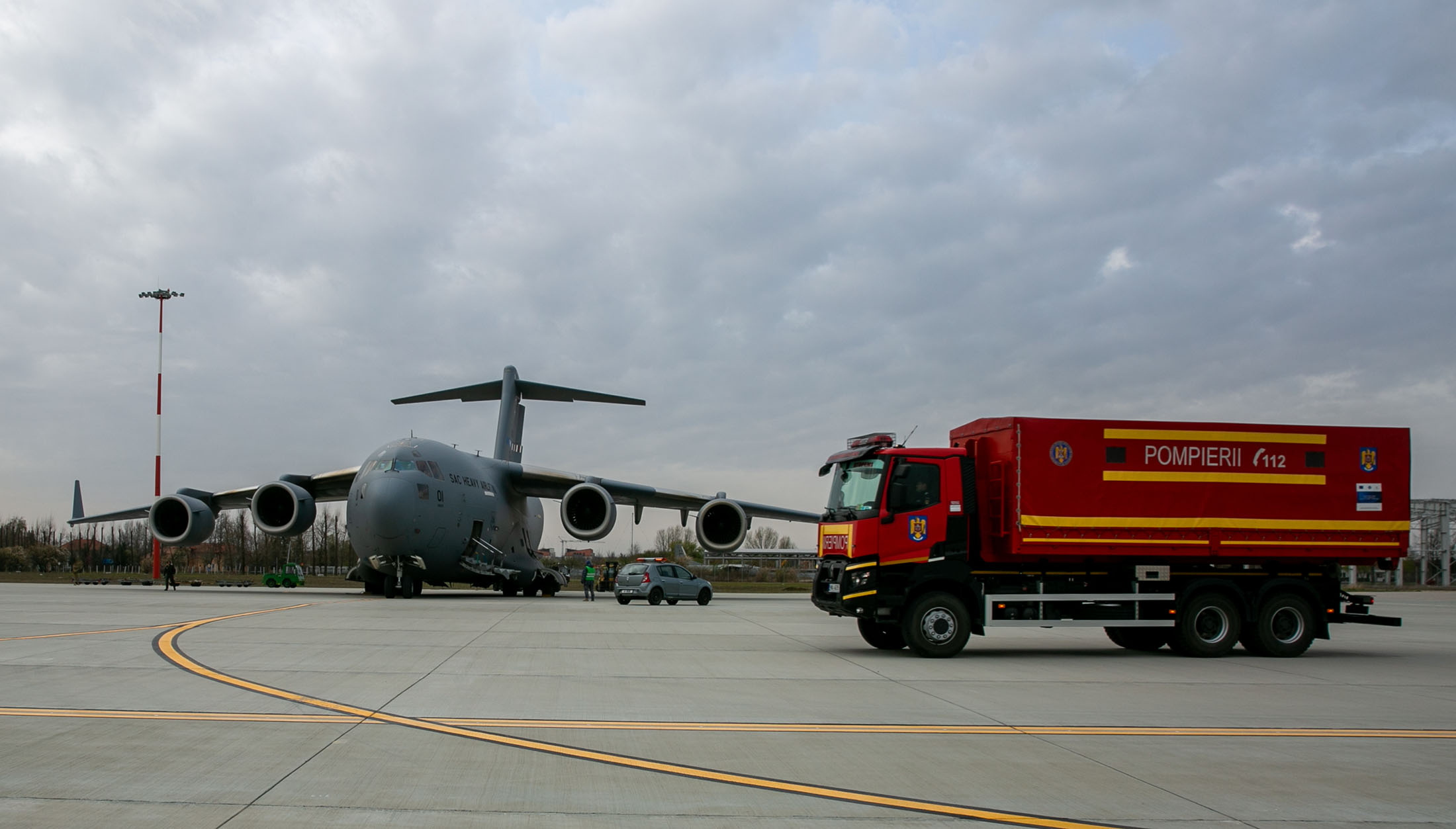 Ministerul Apărării Naționale a solicitat Unității Multinaționale de Transport Strategic care operează de pe Baza Aeriană Papa din Ungaria, desfășurarea unei noi misiuni aeriene de urgență, pentru transportul a încă aproximativ 45 de tone de echipament medical de la Seul la București.
Primul transport a livrat deja cu aeronava NATO 200.000 de kituri de test coronavirus din Coreea de Sud.
Echipamentele, constând în alte 100.000 de combinezoane de protecție, au fost achiziționate de statul român prin Oficiul Național de Achiziții Centralizate și Inspectoratul General pentru Sitiluații de Urgență, în cadrul eforturilor de combatere a efectelor pandemiei de COVID-19 în țara noastră.
Cele două zboruri solicitate de Ministerul Apărării Naționale cu aeronave C-17 Globemaster III reprezintă prima utilizare a orelor de zbor, alocate ca stat membru al Unității Multinaționale de Transport Strategic, pentru pentru misiuni de urgență în contextul gestionării pandemiei de coronavirus.
Distribuirea echipamentelor de protecție va fi realizată cu mijloace de transport din dotarea IGSU și, cu sprijinul inspectoratelor județene pentru situații de urgență, acestea vor fi distribuite și alocate, în funcție de nevoi, personalului medical din Ministerul Sănătății și echipajelor operative ale Ministerului Afacerilor Interne.
Coordonarea celor două zboruri s-a realizat, din partea României, de Centrul Național Militar de Comandă al MApN. (foto Adrian Sultanoiu)
Stirea a tinut capul de afis al paginii NATO :
https://www.nato.int/cps/en/natohq/news_174504.htm
Coronavirus response: 45 tons of supplies arrive in Bucharest
The C-17 Globemaster cargo plane carried over 100,000 protective suits and is part of the Strategic Airlift Capability, managed by NATO. The protective suits were purchased by the Romanian government to combat the effects of the COVID-19 pandemic.
NATO oversees two strategic airlift programmes. As part of the Strategic Airlift Capability or SAC, Allies and partner countries jointly own and operate three C-17 Globemaster heavy cargo aircraft, sharing flying hours and costs. Allies also charter several Antonov transport aircraft under the Alliance's Strategic Airlift International Solution (SALIS) program.  These programmes routinely moved personnel and supplies from Europe to NATO bases in Afghanistan and Kosovo as well as humanitarian relief efforts in Haiti and Pakistan.