Cel mai important cotidian american, New York Times, a publicat un material spectaculos privind acuzatiile aduse de un procuror unor nume grele din industria farma.
Concret, firmele Teva, Pfizer, Novartis si Mylan sunt acuzate de procurorul sef din New Jersey ca au pus la cale o conspiratie pentru a creste de 10 ori (1000%) preturile unor medicamente generice eficiente in mai multe categorii de afectiuni grave.

https://www.nytimes.com/2019/05/11/health/teva-price-fixing-lawsuit.html?smid=fb-nytimes&smtyp=cur&fbclid=IwAR04XeUkjdMrrqX9asN3MWLXEJEo6I34NbTWQNGcxkcF3mC8Nmq1Pr_TGwU
Leading drug companies including Teva, Pfizer, Novartis and Mylan conspired to inflate the prices of generic drugs by as much as 1,000 percent, according to a far-reaching lawsuit filed on Friday by 44 states.
The industrywide scheme affected the prices of more than 100 generic drugs, according to the complaint, including lamivudine-zidovudine, which treats H.I.V.; budesonide, an asthma medication; fenofibrate, which treats high cholesterol; amphetamine-dextroamphetamine for A.D.H.D.; oral antibiotics; blood thinners; cancer drugs; contraceptives; and antidepressants.
"We all know that prescription drugs can be expensive," Gurbir S. Grewal, the New Jersey attorney general, said in a statement. "Now we know that high drug prices have been driven in part by an illegal conspiracy among generic drug companies to inflate their prices."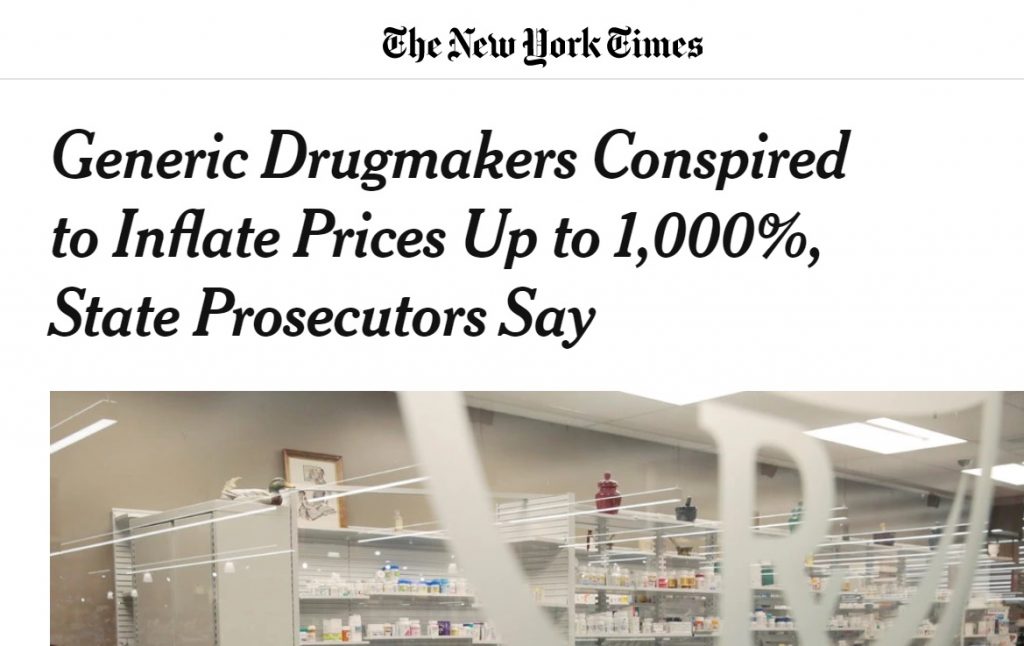 Este vorba de peste 100 de medicamente generice, iar actiunea procuraturii din New Jersey impotriva greilor din industria farma a fost declansata in 44 de state americane simultan.